Quick access to market price
An entry into every application and geography
A procedure which eliminates non-performing counterparts
Advice on opportunities to sell short or long
The adequate quality at the right price
Strategic and tactical advice
Possibility of long term supply
Reverse auction strategy
Professionals in oleochemicals
HBI negotiates deals on behalf of sellers and buyers and issues contracts sealing these deals. We do not take ownership of the products we broker as this would be a conflict of interest with our objective of providing neutral and independent expertise to our customers. We are remunerated on a commission basis.
What is a broker and why use HBI as yours?
As brokers
HBI has built up an expertise which aims to optimize transactions to the satisfaction of both parties.
Ensure a better deal than what would be achieved directly
Cover all geographic opportunities
Access a network of 2000 qualified players of our industry
Obtain appropriate advice from an expert
Save time and maximise value
Receive administrative backup to execute your contracts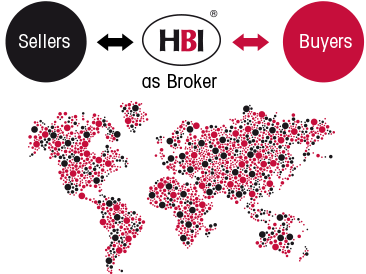 What is an agent and why use HBI as yours?
As agents,
HBI works exclusively in the interest of a principal with the objective to capture market share in the long term. Our team specifically dedicates their time and experience to ensure your business development.
Enter every application and geography
Advice of how to build your supply chain to end customers
Get the benefits from 30+ years' of experience in oleochemicals
Protect your reputation through our loyalty and reliability
Administrative backup customized to execute your contracts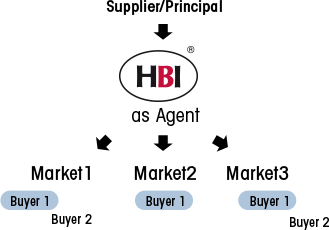 our history
Founded in 1986, HBI has always evolved at the heart of the oleochemical business. We have through time, work and expertise built a solid network of offices located in key geographies. HBI is now leaded by the second generation of Directors headed by Jonathan Heming as CEO.